Mass Graves Get Me Hot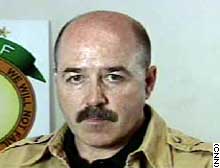 Quien es mas completely depraved shit-heel?
This is the sickest fucking thing I've ever read. And I've read some sick shit:
New York Times 12/15/04:
"Apartment Said to Have Been Scene of a Kerik Affair"
(snip)
"After the cleanup had settled into a routine that fall, the executive said, Mr. Kerik, who was still police commissioner, asked to rent the two-bedroom apartment for his own use. During his use of the apartment, Mr. Kerik and Judith Regan engaged in an extramarital affair there."
(snip)
"...one bedroom faced the pit of ground zero"
Just so we're all on the same page here, this guy FUCKED SOMEONE WHILE WATCHING WORKERS DIG UP A 3,000 PERSON MASS GRAVE. Top that Ron Jeremy, top that 'guy on the internet eating shit out of a girl's ass', top that anyone. If you can come up with something in your imagination that's more fucked up than this, you're more of a depraved shit-fuck than I'll ever be.
And before you regale me with story of that time you screwed that girl at the King Tut exhibit with the mummy watching because you just couldn't wait, remember, Kerik did this SEVERAL TIMES, and with publishing hag
Judith Regan
. Oh yeah, and he was tapped as the man to head the Homeland Security Department by your clued in president.
Thanks for lowering the bar, bald man!
|