Other Folks Now Eligible To Work In The White House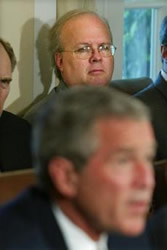 Now that the President has made it clear that you have to actually have been CONVICTED of a crime before he'll consider firing you, I'd like to present a list of people that are therefore perfectly acceptable candidates for some of the most powerful positions in the world.
OJ Simpson
. Never convicted, so perfect to head up a taskforce on violence against women.
Claus Von Bulow
. Also completely exonerated and therefore more than qualified to become the new head of the FDA.
Kenny Rogers
. Still innocent, so should immediately be made baseball commissioner.
Ken Lay
. Why not make him Chairman of the Federal Reserve? After all, he couldn't have done anything wrong if he's not in jail, right?
Bill O' Reilly
. Should probably team up with
Pat O'Brien
to run the FCC.
Arnold Schwarzenegger
. Obvious choice for anti-steroids program.
And finally,
Michael Jackson
, what better choice to head up 'No Child Left Behind'.
And a special thanks to our President, whose complete inability to stand up to the hubristic, power-mad cretins that his daddy picked to run the country makes him look like a bigger spineless lying sack of crap every single day. Keep it up and eventually you'll make Nixon look like Abe Lincoln!
|