Should Of Just Driven Drunk, Or Why Caltrain and the Mid Peninsula Suck.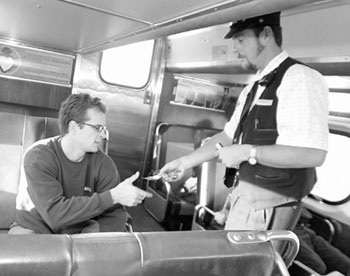 Even if the guy on the left just murdered 20 people in a hail of automatic gunfire, it's not 'the worst thing you can do'.
This last Wednesday, a couple of unemployed losers (who I'll refer to as me and Jeff, for the sake of convenience) embarked on an all-day binge tour of the mid-peninsula area of the San Francisco Bay Area. Inspired by a Cal-Train crawl I'd read about online, we loaded ourselves up with nips of booze and maps to bars from San Bruno to Redwood City and took off early in the morning to become the public nuisances we know we can be.
Why this particular Wednesday, you ask? Well, starting today, three raging alcoholics that have convinced themselves that they're only 'casual' drinkers (for arguments sake. I'll refer to them as me, Jeff and my wife) have decided to go dry for the month of April. So if you see any of us around, offer us a drink so we can drop our shoulders, sigh and quietly mutter something like, "Stupid idea...".
But anyway, back to CalTrain. The day started off well enough. We made it to Millbrae and caught the next southbound train without incident. One of the great advantages of CalTrain over BART is that drinking and eating are both perfectly legal on CalTrain, so you can whip your bottles out with abandon as you slowly make your way toward San Jose. Our first stop was near the Bay Meadows racetrack. This is by far the most unintentionally hilarious stop on the whole CalTrain system. Most train stops are nice modern transit centers with ample parking and bus connections. They realize, however, that any and all amenities like pavement and parking are just wasted on horse track people. You're pretty much thrown off the train into the mud at Bay Meadows and left to presumably crawl your way into the track and bet away your social security check. My favorite visual image all day was at the gates of the horse track, on a bench at 11 AM was a shirtless guy pounding a beer waiting for the first race at noon. My hero.
From there, we walked to the Prince of Wales bar on E. 25th near El Camino. On the way, we passed a policeman walking into Burger King with an M-16 (?). Whatever. We then had a couple of drinks, Jeff had the ass-killing Habanero burger and I stuck with a smoky Jalapeno burger. Mission accomplished so far, noon and we're getting drunk.
Next was supposed to be Steamie's, but a 15 minute walk south of Bay Meadows yielded a place that was closed until three, but just today. Assholes! So we boarded the train and went to Redwood City. Another lengthy walk brought us to Sodini's, wedged right in between an Adult Book store and a Halloween costume shop. To say Sodini's was depressing is an understatement. The bartender had an oxygen tube rammed in her nose and spent the whole time playing computer draw poker. Definitely time to move on. We stopped for another drink or two at a slightly more 'bar and grill' type place around the corner, and decided we'd seen enough of the peninsula and it was time to get the fuck back to the city.
Approaching the Redwood City train station, we realized that our train was just pulling up. So we booked ass to try and catch it. Jeff ran a little faster than me, so he was able to catch the train and hold the door for 4 or 5 seconds until I huffed and puffed my way on. Now here's where it gets funny. We started to walk down the length of the train to find seats and were met by a power-hungry conductor and his fat toadie minion/trainee. They informed us that holding the door for a CalTrain is THE WORST THING YOU CAN DO on a train. Jeff politely (and somewhat drunkenly) informed him that he could think of lots of worse things, so he'd be pleased if he didn't exaggerate anymore. This of course set Dorky McTicket-taker off on a tizzy and he informed us that the next stop was our stop. That's right, he was kicking us off the train. No amount of reason and calm imploration could sway this dipshit from making his one big collar of the day and throwing us two hooligans off the system. Jeff did manage to get some good one-liners in on our way off, telling the guy he should go get a degree in 'real engineering' so he wouldn't have to ride the 'choo-choo' all day. As usual, we spent the next 1/2 hour thinking of funnier things we should've said to him.
Turns out that was a stroke of luck anyway as I'd left my bag at the dialysis bar in Redwood City anyway. We went back and retrieved it and vowed this time never to come back to the peninsula of our own accord again.
Then we went back to the city, got much drunker at several south Mission establishments (Treat Street, Napper Tandy, Phone Booth, Clooney's, Dovre) and called it a night. More importantly, however, called it a month, and hopefully by May, my liver will be back down to its fighting weight and I'll lower my tolerance to the point where it won't take 10 vodka/tonics before I start to feel a buzz.
P.S. If you live south of Daly City and north of San Jose, where you live sucks. You live in a less interesting Los Angeles and need to get out if you ever have a desire to be interesting in any way. And I'm not talking about interesting in a 'serving drinks while living off a feeding tube' kind of way.
|